Call Of Duty Warzone está atravesando su cuarta temporada desde la unión del Battle Royale con Black Ops Cold War, lo que ha llevado a que el meta se movilice un poco y de esperanzas de un mayor balance entre las armas que tenemos disponibles.
Recientemente una de las que tuvo un ligero buff fue la Groza, arma introducida en la temporada 3 de Warzone y que gracias a este aumento de daño ha logrado entrar a la línea de las armas más útiles dentro del Battle Royale.
Te puede interesar: Mejor clase para la FFAR 1 en la temporada 4 de Warzone
Y para evitar que pierdan tiempo probando diferentes configuraciones, en el siguiente articulo los dejaremos con la mejor clase para la Groza en la temporada 4 de Warzone.
Mejor clase para la Groza en la temporada 4 de Warzone
Boca de Cañón: Silenciador.
Cañón: Reforzado VDV de 42.4 cm.
Munición: Tambor de 45 balas.
Laser: Foco de Tigre.
Culata: Almohadilla de la KGB.
Hay que tener algo en claro con respecto a la Groza, su terreno de acción serán las Medianas y Cortas distancias, además el hecho de no llevar mira, podría complicar a más de algún jugador, ya que su mirilla de hierro no es demasiado cómoda, pero es posible acostumbrarse a ella.
Esta configuración es ideal para el rush en Warzone, ahora si jugamos en Rebirth Island, que es más pequeña, nosotros recomendamos no usar el cañón mencionado y cambiar ese accesorio por el Acople "Empuñadura de patrulla" para que así tengamos más velocidad de movimiento y podamos asaltar a los enemigos más rápidamente.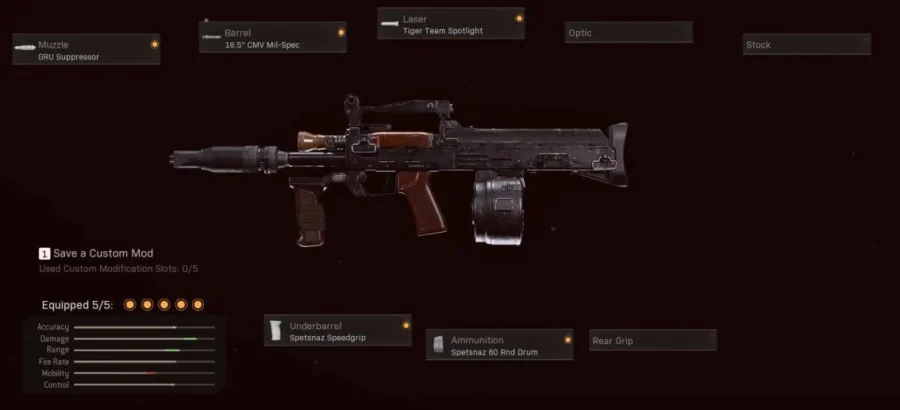 Call Of Duty Warzone se encuentra disponible en las plataformas de Playstation 4, Playstation 5, Xbox One, Xbox Series X|S y PC.