Call Of Duty Warzone, el modo Battle Royale de Call Of Duty Modern Warfare sigue adelante con una nueva actualización y fusión con Black Ops Cold War, que ha introducido un nuevo mapa y el arsenal de armas de este nuevo juego.
Y dentro de todas ellas hay una que destaca mucho, debido a su versatilidad en el campo a larga, media y corta distancia, la ya temida y muy overpower DMR 14, un fusil táctico semiautomático de una gran cadencia de tiro y retroceso casi imperceptible.
Te puede interesar: Las mejores armas de Call Of Duty Warzone en su temporada 4
Y obviamente que con los accesorios adecuados, esta misma DMR 14 se ha convertido en un arma casi obligatoria en Warzone, que pronto podría ser nerfeada, sin embargo, te entregaremos la mejor clase para esta DMR 14 en el Battle Royale.
La mejor clase para la DMR 14 en Warzone
Boca de Cañón: Silenciador Agency
Cañón: Fuerza operativa de 52.8cm
Acople: Empuñadura frontal de agente de campo
Munición: STANAG de 40 balas
Mira: A elección
La DMR 14 se ha convertido por el momento en el mejor arma de Warzone, y es casi obligatoria para llegar a ganar una partida en el Battle Royale, por lo que es posible que pronto sea nerfeada.
Sin embargo, llevar esta configuración, nos ayudará tanto a larga, mediana y corta distancia donde si logramos dar en la cabeza del enemigo, sólo bastarán 2 tiros de esta bestia, además posee muy poco retroceso, por lo que fallar es más "dificil".
En esta configuración hay un par de puntos que puedes cambiar, según tu estilo de juego, por ejemplo en la mira, en la imagen llevamos una Axial Arms x3 para las largas distancias, pero puedes llevar la que prefieras, también otro punto que puede cambiar es el cañón de la DMR 14, donde otra elección sería llevar el de Cadencia, el Titanio de 41.4 cm.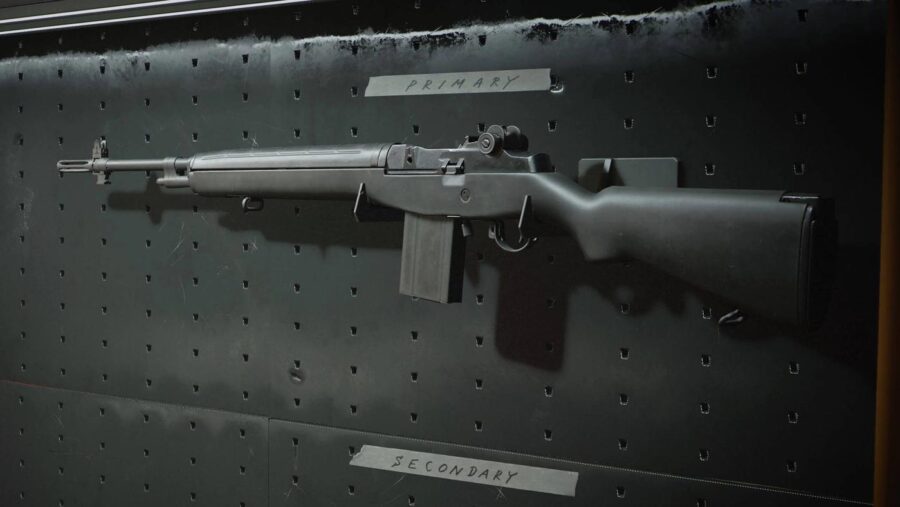 Call Of Duty Warzone se encuentra disponible y es gratis en las plataformas de Playstation 4, Playstation 5, Xbox One, Xbox Series X|S y PC.