Call Of Duty Warzone el Battle Royale de Activision ha mantenido una muy buena popularidad desde que se lanzó con Modern Warfare, y ahora que ya cruza la temporada 4 desde que se unió a Black Ops Cold War, las cosas se han vuelto un tanto interesantes, con las nuevas armas y balanceos.
Si bien, la FFAR 1 es un arma poderosa, ha tenido algunos cambios entre temporadas y se ha dejado un tanto de lado por algunos jugadores, pero en esta temporada 4, es una de las armas más confiables de la categoría de Fusiles aunque no tanto en el terreno de largas distancias.
Te podría interesar: Esta es la mejor clase para la AK74u en la temporada 4 de Warzone
Y para evitar que pierdan mucho tiempo probando diferentes configuraciones, en esta ocasión les traeremos la mejor clase para la FFAR 1 en Call Of Duty Warzone en su temporada 4.
Mejor clase para la FFAR 1 en la temporada 4 de Warzone
Boca de Cañón: Silenciador.
Cañón: 49.5 cm de fuerza operativa.
Acople: Empuñadura de operador de campo.
Láser: Linterna de equipo Tigre.
Culata: Culata Raider.
Con la configuración que hemos presentado para la FFAR 1, la idea será tener mucha movilidad, especial para cortas y medianas distancias, un arma que tendrá muy bajo retroceso y una movilidad bestial, muy útil para Rebirth Island o encuentros cortos en el mapa principal del Battle Royale.
Pensamos que esta clase como deja al FFAR 1 como casi un subfusil, lo ideal sería acompañarlo con algún Sniper para las largas distancias que podría ser un Kar98K o un Swiss.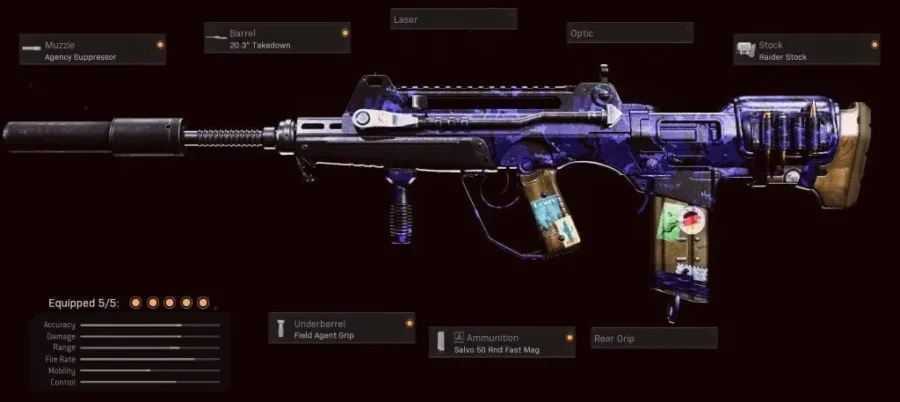 Call Of Duty Warzone se encuentra disponible en las plataformas de Playstation 4, Playstation 5, Xbox One, Xbox Series X|S y PC.