Call Of Duty Warzone sigue a la cabeza en los Battle Royale y hace muy poco, con el inicio de la temporada uno, este modo de juego originario de Modern Warfare ha fusionado su arsenal de armas con el actual Call Of Duty Black Ops Cold War, lo que ha hecho que varias armas lleguen a Warzone.
Una de ellas y que ha causado harto revuelo en la comunidad, por su poder y versatilidad han sido las Diamatti Duales, una pistola de ráfagas que al llevarla en cierta configuración o clase llegan a ser muy destructivas, muy similares a las Renetti cuando recién habían arribado a Warzone.
Te puede interesar: Las mejores armas de Call Of Duty Warzone en su temporada 4
Para desbloquear todo el potencial de esta nueva pistola proveniente de Call Of Duty Black Ops Cold War, deberemos llevarla hasta el nivel 35, donde desbloquearemos su capacidad de dual y todos los accesorios que mencionaremos a continuación para tener la mejor clase de esta arma.
Mejor clase para las Diamatti Duales en Call Of Duty Warzone
Boca de Cañón: Silenciador Agency
Cañón: Fuerza operativa de 18.3 cm
Láser: Mira láser de SWAT 5mW
Munición: Cargador rápido Salvo de 30 Balas
Culata: A dos manos
Como es un arma que llevaremos en ambas manos, no hará falta llevar mira o preocuparse demasiado por su retroceso, que es mucho más llevadero cuando disparamos desde la cadera, pero si llevaremos un laser que nos ayudará a controlar dicha puntería, además el Silenciador Agency y su cañón nos dará más velocidad y menos dispersión.
Al llevar esta clase, que consideramos la mejor para las Diamatti Duales, sólo necesitarás de un par de ráfagas bien puestas en el enemigo, para eliminarlo, pero debes prácticar bastante, ya que la memoria muscular con esta arma será vital.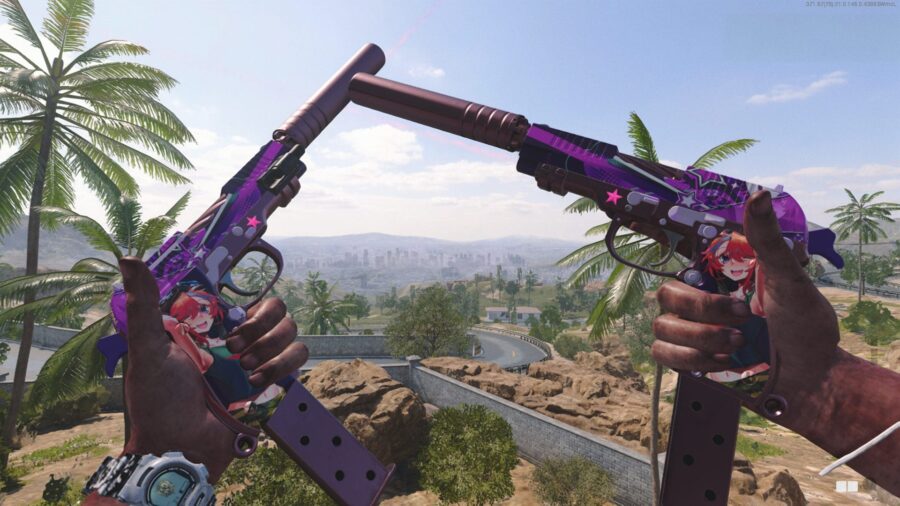 Call Of Duty Warzone se encuentra disponible en las plataformas de Playstation 4, Xbox One, Playstation 5, Xbox Series X|S y PC.