Call Of Duty Warzone el componente Battle Royale de la franquicia anual de Activision se encuentra actualmente atravesando su cuarta temporada desde la fusión con Black Ops Cold War, con una actualización de mitad de temporada que ha agitado un poco las cosas.
En la actual actualización más de 30 armas se han visto afectadas, y otras tantas han recibido un poco de cariño por parte de Raven Software, una que ha logrado ser eficiente es el francotirador Swiss K31, un rifle muy versátil, letal y con una pequeña mejora en su retícula que la ha hecho aún más popular de lo que era.
Te podría interesar: Mejor Clase Para La Pistola Renetti en Call of Duty Warzone
Y para evitar que pierdas demasiado tiempo probando diferentes configuraciones, a continuación los dejaremos con la mejor clase para la Swiss K31 en la temporada 4 de Call Of Duty Warzone.
La mejor clase para la Swiss K31 en la temporada 4 de Warzone
Boca de Cañón: Atenuador de Sonido.
Cañón: 63.25 cm de reconocimiento de combate.
Culata: Culata raider.
Láser: Mira láser SWAT 5mW.
Empuñadura trasera: Empuñadura de la jungla SASR.
Esta clase para la Swiss K31 nos permitirá tener una velocidad de apuntado bestial, excelente para intentar dar disparos rápidos o incluso quick scopes en Warzone, además tendremos una buena velocidad de movimiento mientras apuntamos y una velocidad de bala superior, para enemigos que están más lejos y no tengamos que predecir tanto su caída de bala.
Si bien, no es un rifle francotirador que puede matar instantáneamente a un enemigo, su cadencia y gran precisión nos darán la ventaja en el campo de batalla, además como mencionamos anteriormente, gracias a la actualización de mitad de temporada ahora podemos tener una retícula mucho más limpia para disparar sin distracciones.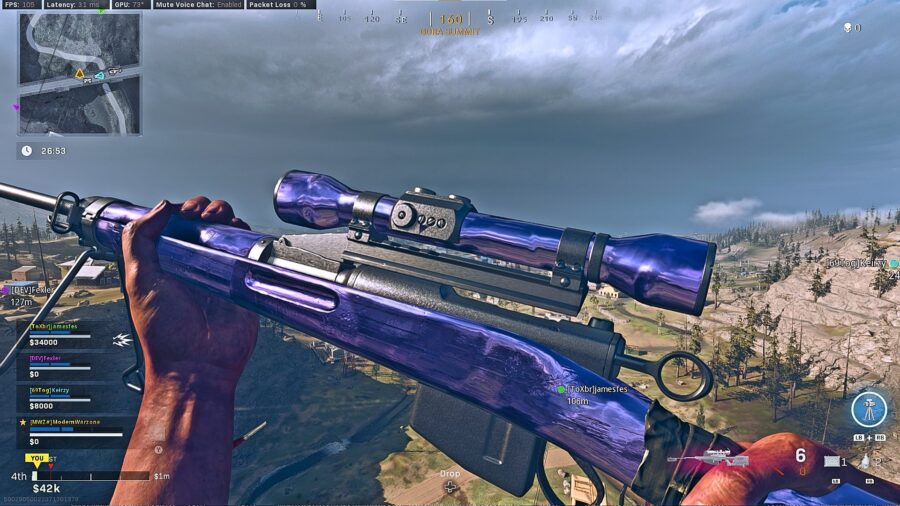 Call Of Duty Warzone se encuentra disponible en las plataformas de Playstation 4, Playstation 5, Xbox One, Xbox Series X|S y PC.